About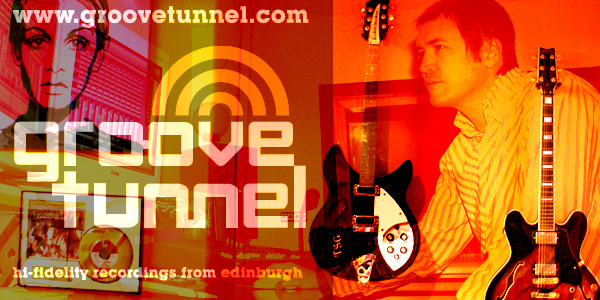 The Whole Point!
The Groove Tunnel provides excellent purpose built rehearsal rooms with good quality and well maintained equipment in a comfortable, tidy and professional environment at affordable rates. The facility also has recording facilities for recording rehearsals right up to full blown albums. To relax, bands have the use of a comfortable lounge equipped with television, video, DVD, Hi Fi and X Box, lava lamps (!) and refreshments.  There is ample and free monitored parking and clean toilets (which makes a change from the majority of musically inclined establishments and always welcome to the large number of girl bands rehearsing at the Groove Tunnel!).
Professional musician Rod Spark set up The Groove Tunnel (named after his company which had served as the name of one of his bands and also an earlier record label), "I made up the name and logo, loved it and have incorporated it into every major things I have done since".
Rod had been playing music in various bands, signed & unsigned, for 25 years and rehearsed in all the usual dives around Edinburgh. It was only after one of his band's signings and a subsequent 12 month stint away, often rehearsing in Glasgow and London that he realised how poorly serviced Edinburgh bands were for rehearsal space. After a break from touring and T.V./Film music, "I thought I would establish the kind of rehearsal rooms I would have liked to have rehearsed in when I was instead languishing in those overpriced, dingy, dusty basements or portacabins which did and still do pass as rehearsal places".
Originally 2 cottages, the place was massively renovated and the studios purpose built for excellent sound quality and with sufficient sound proofing to allow bands privacy to talk in between songs. The Groove Tunnel also has a fully specified recording studio with comfortable control room, 2 excellent live rooms (both with different characteristics) and several isolation areas so bands can record live but still get a professional degree of separation for that potential hit. The recording studio also has it's own lounge, fitted kitchen and toilets.
With Rod's connections in the music business, he often has representatives from record companies over to listen to the bands that have been rehearsing for a while and are ready to start moving up the ladder.  Several bands have been signed from a showcase at The Groove Tunnel and several more from recordings Rod has made of them, "every time one gets signed, a bunch of similar sounding bands come along wanting a demo made so they can get signed too!".
While Rod is not always at the studio himself (though it is now his musical base, no doubt producing sighs of relief from his neighbours at home!), he makes an effort to make contact with all the bands rehearsing there and can often be seen in the audience whenever they're gigging. He can often be found at the studio playing with his own band Modus or working on music for films, T.V. and commercials which can be entertaining for the bands coming past and giving them the opportunity to forward music onto production companies for consideration in films etc.
Other than the rehearsals and recording, The Groove Tunnel often caters for "Pop Parties"
see: yoo-star.co.uk, which allows groups of people (usually children, but there has been plenty of would be pop star adults!) to come along and be treated like a pop star for a few hours. They get the opportunity to dress up in a huge selection of outfits, make videos, do a concert, record a CD and eat cool food.  They then get to go away with goodies including a professional CD of whatever songs they wanted to sing with themselves on the cover.  Just like a real Pop Star! "The kids love it, and the Mums and Dad's that bring the kids along quite often come back for themselves. We cater for all kinds and sizes of groups".
Things are going well for The Groove Tunnel with demand for the rooms being high. "I believe bands these days expect more from a rehearsal room and I strive to provide the best.  The rooms are cleaned out daily, I try to ensure everything is in best condition and fully maintained. If anything goes wrong, I have spares for everything so a band need never be inconvenienced".
Asked if he's worried about other establishments pinching his ideas Rod modestly replied, "If they do then the bands score out of it and that's got to be good for music in Edinburgh. There are other places on the go that have survived the bad old days but we all cater for a certain niche or suit certain bands due to location.  You're not going to travel out of town to rehearse if you can rehearse down the road are you?".
I don't know though, having seen The Groove Tunnel and spoken to various bands, I know of plenty that would and indeed do.
Graham Miles